A general rule of thumb is that at every 60,000 miles vehicles owners should have their timing belt replaced. Be sure to check your owners manual to ensure the proper interval to replace your timing belt and water pump. Timing belt replacement is crucial to the life of your engine. Interference type engines can suffer expensive damage in the case of timing belt failure. Bent valves are not cheap to replace! Below are the timing belt maintenance intervals and info for Mazda vehicles.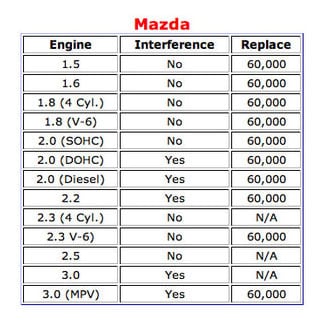 Contact your Mazda Service expert
McDonald Mazda Service experts can help you determine the maintenance needs for your vehicle. We will do a through inspection and walk with you through any timing belt questions you may have. Generally, the idler pulleys, tensioner and water pump should always be replaced when the timing belt is replaced. In most cases, the timing belt drives the water pump, so it is the right time to replace the water pump. It is also recommended by the manufacturer.
Mazda Timing Belt and Water Pump Replacement
Timing belts have replaced timing chains on many of today's engines. Both belts and chains ensure that crankshaft, pistons and valves operate together in proper sequence. Belts are lighter, quieter and more efficient than chains.
As a car's engine operates, it generates high temperatures within the motor. This heat must be handled appropriately and the motor kept cooled at a proper operating temperature range, or the vehicle will suffer potentially catastrophic failure?you'll blow it up. Generally, a vehicle's water pump, driven by the motor via the timing belt (or serpentine belt in some models), circulates the coolant/antifreeze around the "water jacket" of the motor, and back through the radiator thus cooling it. It also facilitates circulating coolant/antifreeze through the heater core of the car so you can stay warm in the winter.